Rebecca Black: Driven to Tears Over Cyberbullying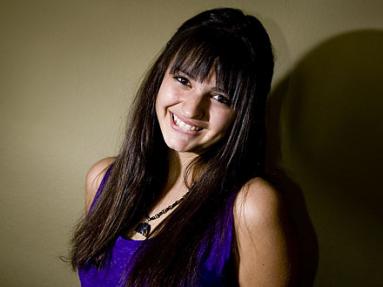 Granted, we dubbed "Friday," the single released by
Rebecca Black
last week that garnered millions of YouTube hits in mere days as the worst song in recorded history.
But this aspiring artist says that's nothing compared to the personal attacks she's received since the video made her into a celebrity.
"At times, it feels like I'm being cyberbullied," Black tells
The Daily Beast
, saying she was sent messages that read: "'I hope you cut yourself, and I hope you'll get an eating disorder so you'll look pretty.'"
The 13-year old adds "I don't think I'm the worst singer, but I don't think I'm the best" and then explains the origin of the track:
It was part a $2,000 package her mother paid to Ark Music Factory, a Los Angeles-based production company for teen hopefuls. She chose to release "Friday" because she could relate to its simple themes.
Hoping to one day truly make it big, Rebecca has one dream in mind:
"I am in love with Justin Bieber. [A duet] would make my life!"
thehollywoodgossip